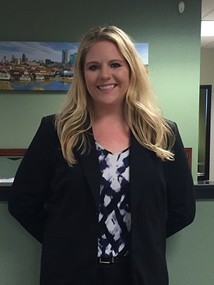 Congratulations Lindsey!
Lindsey is our winner for Team Member of the Month for the month of April!
Lindsey is the firm's Business Director and one of our paralegals. Lindsey also oversees the Corporate Shield Program and handles a wide range of matters. She recently graduated from Chico State with a double major in Business Administration and Political Science. Lindsey is originally from the Bay Area (go Giants!) and recently moved to Sacramento to pursue her legal career. In Lindsey's spare time she likes to take trips to Lake Tahoe and play with Summit, her corgi-mix.
The team had the following comments about Lindsey:
Lindsey continues to work hard to increase her knowledge of corporate matters and administrative matters as her role at the firm expands into new territories. Lindsey often has to juggle schedules for multiple parties in coordinating appointments and teleconferences and is able to adroitly manage the minutia of multiple calendars.
My vote for team member of the month for April is Lindsey. She is the first person in the office every day and the last one to leave. She is always willing to help no matter the task and does so with a smile. She has been essential in assisting John and keeping him on track with urgent client matters. She has taken on a lot of responsibility over the past couple months and we are very lucky to have her!
Whenever asked to assist with a task, Lindsey takes it upon herself to go above and beyond what is asked.  She is a problem solver always coming up with solutions to problems. She is truly an asset to the firm, we are lucky to have her!
Congratulations to Lindsey as our Team Member of the Month!